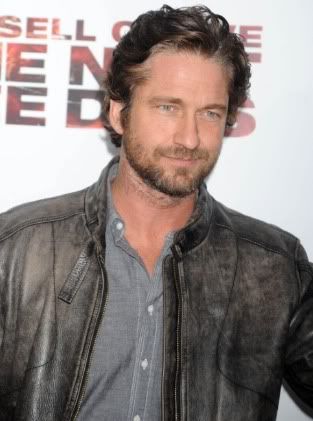 On November 13, 1969, this man was born.  It was a good year.  No, it was a GREAT year!  In case you don't recognize him, this is Gerard James Butler, the Scottish actor who portrayed the Phantom in Andrew Lloyd Webber's film version of Phantom of the Opera.  Since the release of POTO in 2004, he's gone on to play many diverse roles including: Leonidas in the mega hit film, 300; Beowulf in the independent film, Beowulf and Grendel; The Stranger in Dear Frankie; Gerry Kennedy in PS I Love You…and many more.
I first discovered Gerry a few years before his Phantom role when he starred in a television mini-series called Attlia.  The series wasn't great, but Gerry's performance stood out despite a bad script and the wooden performances by other actors.  He was simply beautiful to look at, but beyond that he brought heart to the story and made Attila less one dimensional than he was written to be.  Yes, I found him very attractive, but having very little interest in the internet at that time, he dropped off my radar quickly.
It was in 2004 on December 22 when I  stood up and took notice of this man as the Phantom, and he's now become a part of my life through the various fansites I belong to, and the friends I have made because of our mutual admiration of him.  Six years is a long time to remain a fan of any actor, especially when you consider the many changes that have occurred in my life, and in his.  Over the past six years I've watched him fluctuate up and down in his popularity; in his choice of films, in his weight, and in the size of his fan base.  During that time, I've heard every criticism and outrage leveled at this man, both by the press and by the public.
Following his success in 300, Gerry became a popular target, not only for the internet based entertainment media, but also the bottom dwellers who feed on negative energy, also known as "haters."  From week to week over the past six years, Gerry's dating habits have been discussed and dissected.  Because he is not married and does 'appear' to date a lot of women, he is quaintly referred to as a "manwhore" by one segment of his haters, while another segment insist that he is a closeted gay.  His clothes are criticized, his ability as an actor is questioned, and in short, he's the target of gossip magazines and websites who often create a negative spin on their Gerard Butler related articles and interviews.
Discontent has increased among fans who are not happy with Gerry's film choices.  Many have moved on to other "fandoms,"  waiting for Gerry to make the one film that will be both a critical and box office success.  Meanwhile, he presses on with his career, following a path known only to himself and his closest family and friends.

I am not without my own strong opinions regarding Gerry's film choices.  There are some films I like and some I don't.  There are some film roles I think he played to perfection, and others I thought he could have done better, but I try to keep my opinions from degenerating into overly critical attacks…or my own personal disappointment in the man.  I try to remember that I do not possess background knowledge about the film business, nor do I understand the complexities of an actor's career.  Where Gerry is concerned, I always hope for the best, and I am confident that his greatest roles are still ahead of him.
As to his personal life, I will confess that in the early days of my fandom, certain behaviors bothered me that no longer do.  I am not troubled when he gains or loses 20lbs.  I don't fret over the women he dates or the company he keeps.  I don't mind if he cuts his hair or lets it grow long, and it doesn't bother me that he sometimes dresses like the average guy on the street.  I would like for him to fall in love and marry a wonderful woman…but at this point, I 'm satisfied that it's his life and he's living it as he sees fit.  Mostly I just want him to be happy and to find peace.

I guess what I am trying to say is that I care about this man, and I do wish him the best whether he is fat or skinny, sharply dressed or dressed like a slob; gay, straight, married or playing the field.  I wish the tabloids would stop ragging on him, and I wish the haters would back off!  That's not likely to happen…but damn it, this is my blog and I just had to get that off my chest!!
So wherever you are, Gerry…and however you are celebrating, I wish you the happiest birthday!!!!
Swannie