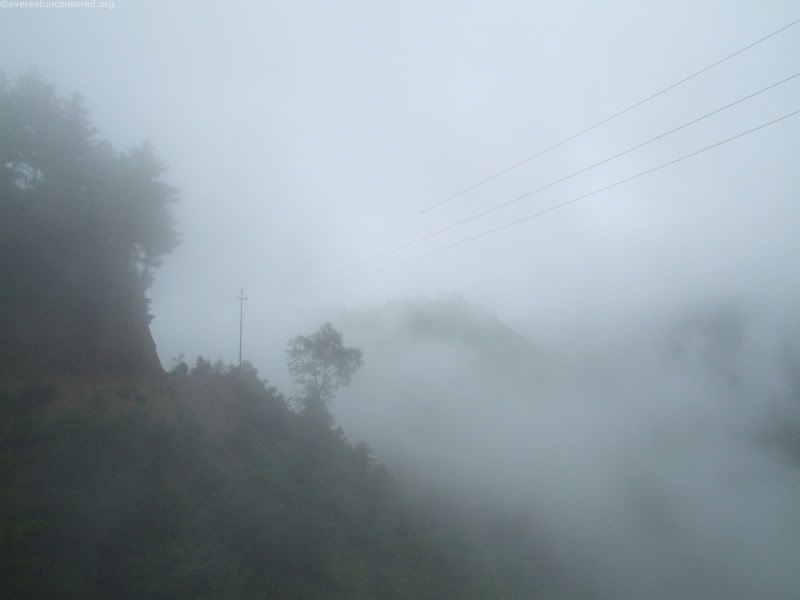 Ever had a mundane experience or moment that led to a significant self discovery?  This happened to me on the way back from my husband's doctor's appointment.  Portland awoke to a thick veil of fog this morning.  I've never liked fog.  I don't like it because it makes feel claustrophobic.  Fog gives me the sense of being hemmed in on all sides, and that makes me edgy.
This morning as we were headed over the bridge onto the freeway, because we were near the river, the fog was particularly heavy.  As I looked into the traffic ahead of us, I began to experience a slightly panicky sensation and remarked to my husband, "I don't like not knowing what lies ahead."   To this my husband commented that as long as he could see the red tail lights 150 feet in front of us,  there was nothing to worry about.  Yet to me, the cars in the distance seemed so far away that it "felt" like we were heading into a void.  You could not see the structure of the bridge around us nor over us, and the road seemed to disappear into a wall of gray, with no sign of the river or city below.  It was then that I said to my husband, "I just had an epiphany!  Being afraid of going over this bridge in the fog is the story of my life!  Instead of focusing on what I can see ahead of me, I tend to focus on all the 'negative space' that makes me afraid of what I can't see." ….. (to read entire article, click the MORE button)

From early childhood I recall always being afraid of things.  Especially new things.  I was never one for wanting to experience adventures.  No, not me.  I preferred the safe and familiar to the bold and experimental.  Above all,  I needed to be certain that I would not get hurt and that there was no danger.
While other kids took skiing lessons, dove off the high dive at the neighborhood pool, and pursued other physical thrills, I liked being indoors where I could control my environment.  My adventures came in the form of imagination, where, through books, music and movies, I could safely experience the "scary" world from within the comfort of my own four walls.
I have no idea why I am like this. I've fought to overcome these irrational fears all my life, but without much success.  It makes me wonder, what, if anything, might have happened in my early life to precipitate this personality flaw?  I suppose I will never know the answer to that question…and in reality, I'm not certain it would change anything if I were to uncover some childhood trauma that flipped on my overactive fear switch.  I can't go back and relive my childhood.  My goal now is to incorporate this lesson into my life by way of some concrete action.  The meaning is obvious:  Focus on what you can see instead of being afraid of what you cannot.
As a believer in a loving God and savior, I know in my spirit that although at times I may feel 'lost in the fog', if I will only keep my eyes on the light just ahead of me, and not on the 'negative' or 'empty' space around me, The Lord will will get me where I need to be!