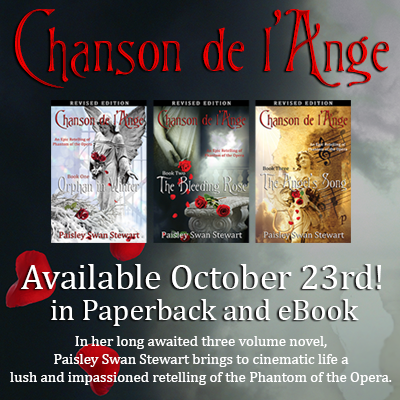 Greetings fans and friends!  This is just a quick update to let you know the official release date for Chanson de l'Ange!  As you can see by the graphic, the release date is set for October 23.  I am now in the process of reviewing the actual physical proofs and I am very pleased with the production quality of these books.  There is however, one little snag with book 3's cover on CreateSpace's end that is currently being addressed, but I do not foresee a stall  in the release due to this issue.  If there is any sort of delay, it would be just a matter of days, but again, I believe we are on target.
On the day of the release I will post an announcement here and on all of my other social media outlets.  I will also send out an email to those who have signed up to receive email and newsletters from me.  I will post the links to all purchase sites, and let you know of any other news pertaining to the release.    Have a great week!
Swannie
Sneak peek for my readers!