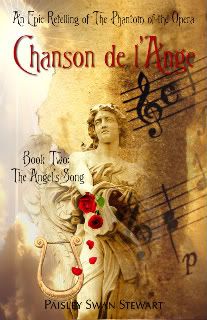 Greetings fans and friends!  Earlier today, it came to my attention that some readers of Chanson de l'Ange Book One~The Bleeding Rose, have some concerns about the ending of the book, and whether or not the Phantom's story will continue into Book Two~The Angel's Song.  Left you with a bit of a cliff hanger, didn't I! *rubs hands together gleefully*

For those of you who HAVE already, or who ARE currently reading Book One, please be assured that the Chanson de l'Ange retelling of Phantom of the Opera seamlessly continues with Book Two.  For your pleasure, I present the introductory statement for Book Two:
Chanson de l'Ange Book Two: The Angel's Song
Book Two continues the Phantom's haunting odyssey into the very essence of love, madness and redemption.  As Christine takes center stage in the Joan of Arc opera, events swirl out of control with dire consequences.  The Angel of Music steps out from the shadows, and mirrors become the portal into both heaven and hell.  Now a young woman, Christine is forced to make choices that will dramatically alter the lives of those she loves.  She must brave a future where all are thrust into an emotional and operatic crescendo that will leave readers breathless.
Chanson de l'Ange spans a fifty year journey fraught with music, high romance and madness.
__________________________

Do you trust me to give you a satisfying, yet emotionally gripping continuation of Book One?  Of course you do!!!!
Now, to update you about progress on the release of Book Two,  I will be printing out the 512 page manuscript for red pen edits which will take a few weeks.  I am still on track to begin the submission process in October, but should I complete the red pen edits before then,  I will start submission at that time.
Have a great Labor Day weekend!
Swannie
More